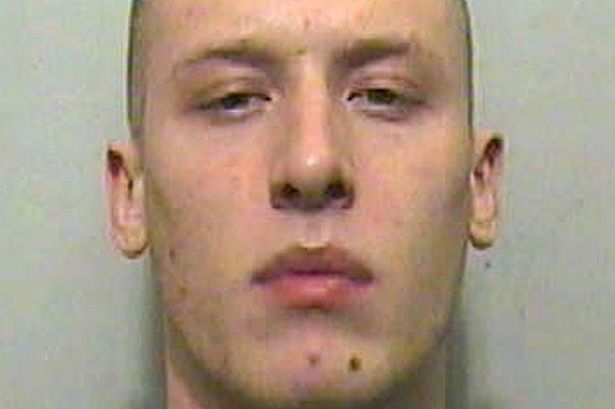 Last week, a stunning joint raid led by members of Spanish National Police and Britain's Serious Organized Crime Agency (Soca) resulted in the capture of Andrew Moran, a British fugitive criminal who had been on the run for nearly 4 years. It was a great moment for these law enforcement agencies, especially Soca. The British organization has encountered a series of close calls in recent years, but had never before been able to get their man.
At the time the 31-year-old fugitive was finally captured, he was soaking up a few rays of sunshine and watering his plants by a swimming pool in Costa Blanca, Spain. The area is commonly referred to as "Costal del Crime" since it harbors a number of British criminals on the run from authorities.
Moran didn't exactly go quietly. He was heavily armed at the time of his arrest – police found 2 handguns, 60 rounds of ammo, and a machete (hidden under his bed) on the property. It took a team of officers to eventually bring him to the ground and secure him in handcuffs after he attempted to flee the scene. Moran tried to charge through thick bushes and climb onto a roof. I'll bet he wishes that machete had been more accessible during the raid.
Armed Robbery, Trial, and the Great Escape
Moran had been wanted for his participation in an armed robbery of British Royal Mail guards outside of an Asda supermarket in Colne, Lancashire back in 2005. He and his partners scored more than $38,000 at that robbery.
At his trial in 2009, Moran made a stunning escape. He leapt over the dock at Burnley Crown Court, assaulted 4 security guards, and ran away from the judge. He has been on the run ever since.
Plastic Surgery and Numerous Close Calls
During his 4 years on the run, Moran has changed his appearance to keep a low profile and avoid capture. His efforts included plastic surgery, growing his hair longer, donning a creepy mustache, and a laser treatment to remove a mole from his chin. He also assumed various false identities while moving around Europe.
Apparently, Moran could have used a few more dramatic facial plastic surgery procedures. Not only was he finally captured, but he has also been lucky during several close calls with police. The most notable incident came in November 2012, when he was almost captured at a spa town in southeast Spain called Los Alcazares. He plowed through two police cars and drove the wrong way up a highway in order to escape.
But it's all over now. Moran is finally in police custody, and I have a feeling they will be much more careful at his upcoming court appearances than they were in 2009.
The Battle over Extradition
British authorities are trying to process his extradition, but it may be awhile before he returns to England and serves out his sentence for the 2005 armed robbery. Spanish law enforcement officials are currently looking into Moran's potential involvement in several crimes committed during his days as a fugitive.
The most serious of these crimes is drug trafficking. If convicted, he may face up to 22 years in Spanish prison before returning home to serve out his British sentence. It may be a long time before he is watering plants by a pool again.