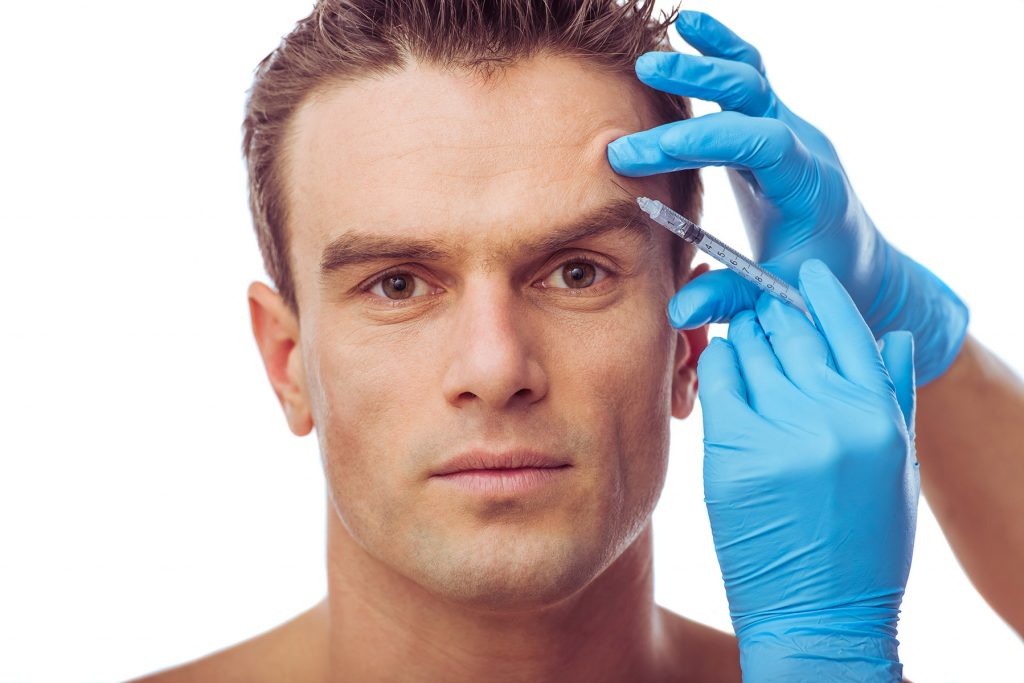 How Does Botox® Cosmetic Work?
Using Botulinum Toxin Type A BOTOX® injections treat wrinkles via an injection. BOTOX® was invented to treat neurological disorders, but today, it has been very successfully used in the treatment of wrinkles, frown lines, and crow's feet.
Over seven million people chose to have Botox® Cosmetic injections in 2018, and according to the American Society for Aesthetic Plastic Surgery, BOTOX® is growing faster than any other cosmetic procedure.
The idea behind BOTOX® is simple: prevent the muscles from causing wrinkles or lines by keeping them from contracting. BOTOX® can be administered in a non-invasive way. Small amounts of sterile, purified BOTOX® are injected directly into specific muscles and muscle groups. BOTOX® prevents nerve cells from signaling muscles to contract.
After the muscles are injected with Botox, it can take anywhere from a few hours to a few days for the full effect to take hold. By injecting small doses directly into the muscles, BOTOX® can reduce or even eliminate specific facial lines for up to eight months.
Some people might think that by doing this, their face will be in a state of paralysis for weeks on end. However, the doctor keeps BOTOX® from spreading to other areas of the face by targeting very specific muscles. Unlike other, more invasive, cosmetic surgery procedures, the effects of BOTOX® are not permanent and not as drastic. There are many other advantages to using Botox.
BOTOX® procedures are non-invasive, which means there is no surgery involved. There is no risk of contracting botulism. Facial expressions will remain the same for the most part. There is little to no recovery time after a procedure. It is safe to have multiple BOTOX® procedures performed, plus BOTOX® procedures cost much less than other, invasive cosmetic surgery choices.
Over a period of time, the effects of BOTOX® gradually wear off, and the muscles return to their normal state. Because it wears off, it is safe to return for more BOTOX® injections every three or four months in order to keep smoother, younger looking skin.
BOTOX® advocates find that the procedure allows them to look their best at all times. By reducing the severity of facial lines, BOTOX® helps them look younger for a longer period of time.
How Is the Botox® Cosmetic Procedure Performed?
Botox is injected into the muscle tissue surrounding a wrinkle via a small needle. The discomfort is minimal and usually lasts a few seconds. BOTOX® relaxes the muscle tissue by blocking nerve impulses to it. Within a couple of days the results can be clearly seen and will last for several months, after which the procedure can be performed again.
Am I Eligible to Receive BOTOX® Injection?
Women who are pregnant or nursing should wait to have the procedure done, since the side effects associated with pregnancy are unknown at this time. Medication such as antibiotics, anti-inflammatories, and aspirin, will increase bruising. Younger people who have wrinkles but do not want to have a facelift are good candidates. As with all medical procedures, a consultation with a local cosmetic surgeon will help you find out if you are a candidate.
What Are the Side Effects of Botox?
Although BOTOX® is relatively safe it does have some mild side effects. The most common side effects are temporary bruising, numbness, swelling, and a tingling sensation. Patients should not rub the area within the first 12 hours to help alleviate these side effects.
Can I afford a BOTOX® Injection?
According to the American Society of Plastic Surgery, in 2018, the average fee for a BOTOX® injection was less than $400. Most cosmetic doctors offer financing options available to help virtually any candidate afford the look they desire.
Does BOTOX® Have a Long Track Record?
Even though it seems like BOTOX® is a relatively new cosmetic procedure, it was first approved by the FDA in 1989 to treat blepharospasm, strabismus and cervical dystonia. However, in 2002 the FDA approved BOTOX® for use in reducing glabellar lines after clinical trials demonstrated that it is both safe and effective in its use for up to 120 days.
One small risk associated with BOTOX® is that of having the drug injected into the wrong facial area, causing ptosis or "droopy eyelids." However, this is not a permanent complication, as it goes away with time. A small percentage of patients also experience headaches, flu-like symptoms or become nauseous following the procedure.
In the past, BOTOX® has been used to treat writer's cramp, facial spasms, head and neck tremors and hyperhydrosis. It is currently being investigated for its potential in treating chronic neck and back pain.
One reason BOTOX® has become so popular is through BOTOX® parties. Many doctors believe that there is no harm in treating many patients in a more social and relaxed setting, as long as the procedure is performed in a medically safe and professional way. Through these events, BOTOX® procedures are less costly, and the patients may not feel the anxiety that is typically associated with getting an injection.
For more information on Botox, check out these blog posts and articles: