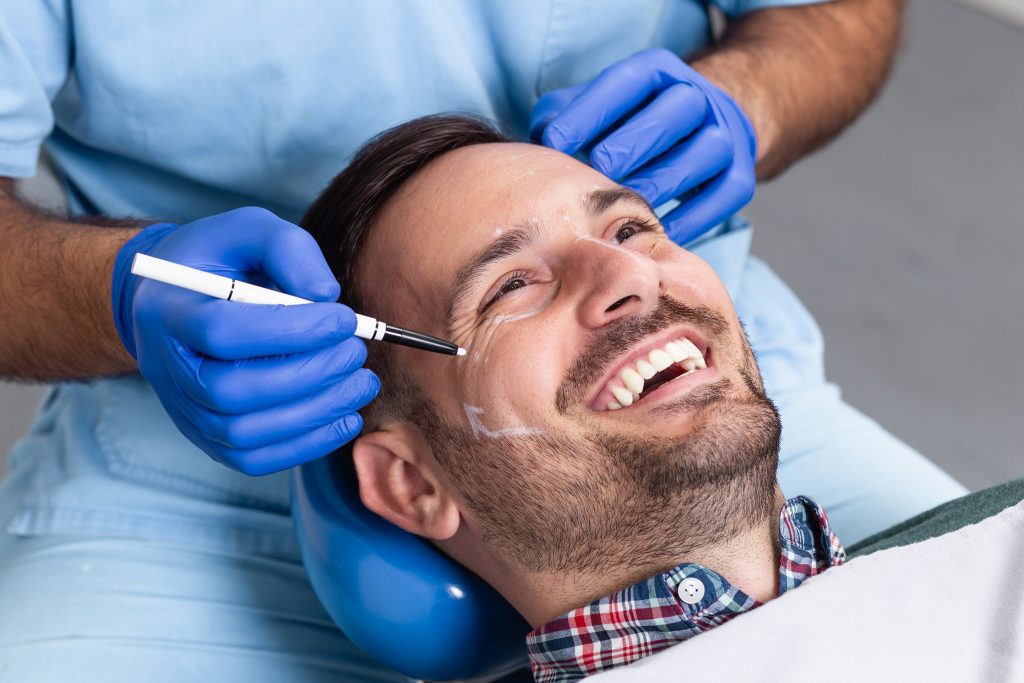 According to a survey from the American Society for Aesthetic Plastic Surgery, ten percent of cosmetic procedures—both surgical and non-surgical—were performed on men. In fact, the number of cosmetic procedures men have undergone has increased 306 percent since 1997.
The increasing popularity of cosmetic procedures among men could be attributable to a number of factors, including more popular acceptance of cosmetic surgery and other procedures, heightened awareness of the importance of appearance in the business and social arenas, and the increased availability and quality of cosmetic treatments available.
With the business world becoming increasingly competitive, and male baby boomers feeling the effects of aging, many men have chosen cosmetic surgery or non-surgical procedures to maintain the healthy, youthful appearance necessary to keep their competitive edge.
The most popular cosmetic surgery procedures for men, according to the survey, are as follows:
Liposuction. Liposuction, a method for targeted removal of areas of unwanted fat on the body, is the most popular cosmetic surgery procedure performed on men today.
Eyelid surgery. Eyelid surgery usually involves removing excess fat and skin around the eye area to reduce puffiness and drooping eyelids, resulting in a more youthful appearance.
Rhinoplasty. Rhinoplasty, or nose reshaping, involves resculpting the nose to create a more aesthetically pleasing appearance or to repair physical problems such as birth defects and breathing problems.
Male breast reduction. Male breast reduction is an effective treatment for gynecomastia, a condition in which men develop feminine-looking breasts. Breast reduction involves excising glandular tissue, liposuction, or some combination of the two.
Hair transplantation. Hair transplantation is an effective technique for reversing the effects of male pattern baldness, and providing a more youthful appearance.
Nonsurgical procedures are also becoming very popular with male patients. The most popular nonsurgical procedures for men are as follows:
BOTOX® injections. BOTOX® injections, which temporarily relax small muscles in the face, are used to reduce the appearance of wrinkles, usually on the forehead, where deep frown lines can create an aged appearance.
Laser hair removal. Laser hair removal is a procedure used to permanently remove unwanted hair in areas such as the back, shoulders, and chest, without repeated treatment.
Chemical peels. Chemical peels are a skin treatment in which chemicals are applied to the skin to remove the rough, outer layer of damaged skin, replacing it with a fresher, smoother layer, resulting in a more youthful appearance.
Microdermabrasion. Microdermabrasion is a procedure in which the skin is buffed using small abrasive particles, resulting in smoother, more youthful skin.
Laser skin resurfacing. Laser skin resurfacing involves directing a concentrated beam of light at the surface of the skin, resulting in softer lines and a more youthful appearance.
Due not only to obvious differences in biology and physical composition, but to subtle aesthetic and cultural norms, performing cosmetic surgery on men presents different challenges and understanding of different standards from performing cosmetic surgery on women. Standards for male attractiveness are very different from standards for female attractiveness, so it is important to discuss not only the cosmetic surgery procedures themselves, but the overall effect of various treatments, with a reputable cosmetic surgeon who has experience working with male patients.