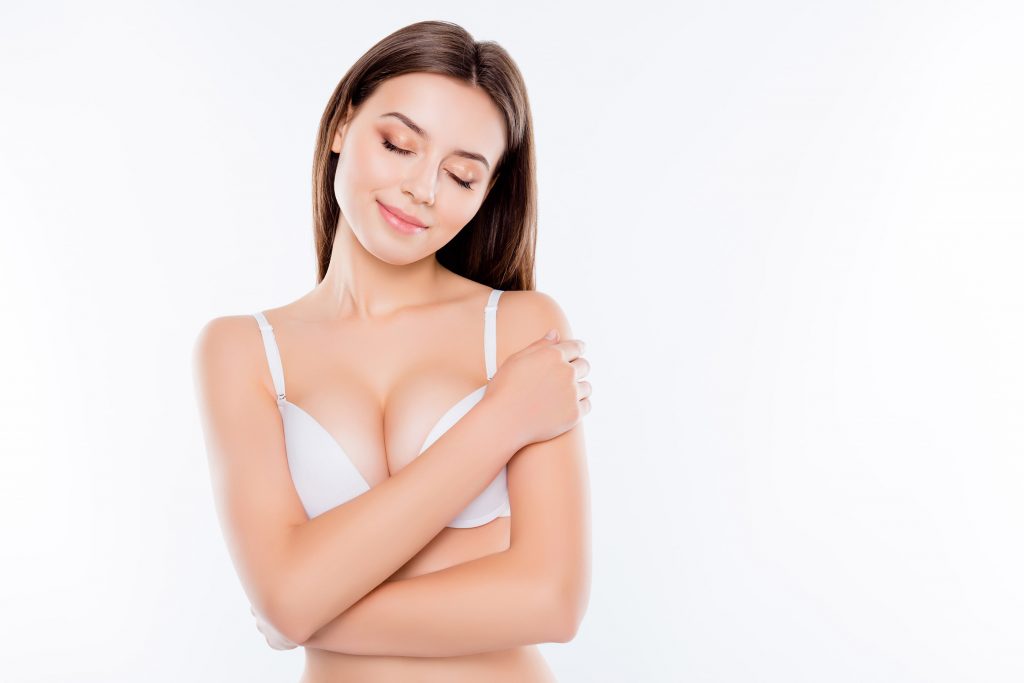 Breast augmentation surgery is the preferred method for most breast enhancement candidates. The American Society of Plastic Surgeons recently reported that breast augmentation is the most popular cosmetic alteration procedure in the United States, ahead of both liposuction and nose reshaping. More than 313,000 surgical breast augmentations were performed in 2018. Surgically placed breast implants lead in popularity because they produce the best results, especially for women who desire increases in breast size greater than one cup size.
Non-surgical options to breast enlargement have been shown to produce results that are uniformly less dramatic. For example, the Brava® system is advertised as a natural route to breast enhancement. Brava® is a mechanical breast enlargement system which requires the user to wear a special bra for ten hours a day, for ten to 16 weeks. A clinical trial showed that new breast growth was sustainable for up to 22 months without re-using the Brava® domes.
The system claims maximum bust line increases of two cup sizes. However, most women experience an increase of only one-half to one cup size. In some cases, results are quite subtle and difficult to notice, and many manifest more as an increase in breast definition rather than an increase in breast size.
Mechanical stimulation systems are not recommended for women under age 18; women with breasts smaller than a small C cup; women who are pregnant or lactating; women over 40 who have not had a mammogram within the last year, and women who have chronic dermatitis of the chest area.
Another breast enhancement option other than breast surgery claims to exploit the hormone-producing qualities of herbs and plant extracts to stimulate growth in breasts which have not grown to their potential as a result of a pregnancy or the counter-effects of post-adolescent hormonal releases. Claims for such herbal supplements are not supported by scientific discovery or testing, and the Food and Drug Administration does not review such products for efficacy.
One such product touts 13 constituent herbs and root, berry or flower extracts. The manufacturer claims these ingredients aid various hormonal and mammary gland functions, and lauds their ability to exert mild estrogenic effects, aid in proper thyroid gland function, work as uterine stimulants or act as female hormone balancing agents.
The constituents of herbal supplement pills sold for purposes of breast tissue enhancement, called phyotoestrogens, may include fenugreek seed extract, saw palmetto berry, fennel seed, Mexican wild yam root, Pacific kelp and other ingredients.
Pill-based herbal cocktails like these have not been studied in controlled scientific settings. Because they are not intended for use as therapies to combat illness or disease, they are not regulated under Food and Drug Administration approval processes. Other than casual observations related to the temporary engorgement of milk ducts, no evidence exists that they successfully or permanently increase the volume of breast tissue. Moreover, web sites advertising herbal supplement products do not display before-after results, and call centers selling such products freely admit that such photographic proof is not available.
The decision to pursue breast augmentation is one that deserves your most careful consideration. It is always best to consult your physician or a cosmetic surgeon before deciding on the best breast enhancement procedure for you, whether by surgery, mechanical stimulation or any other claimed method. However, in general, you would be wise to be skeptical of claims that sound questionable on their face or where there is no demonstrable proof of efficacy.
If you or someone you know is considering breast augmentation surgery, be sure to consult a well trained physician specializing in cosmetic surgery .